48V 100Ah Home Battery Backup System
48V 100Ah Home Battery Backup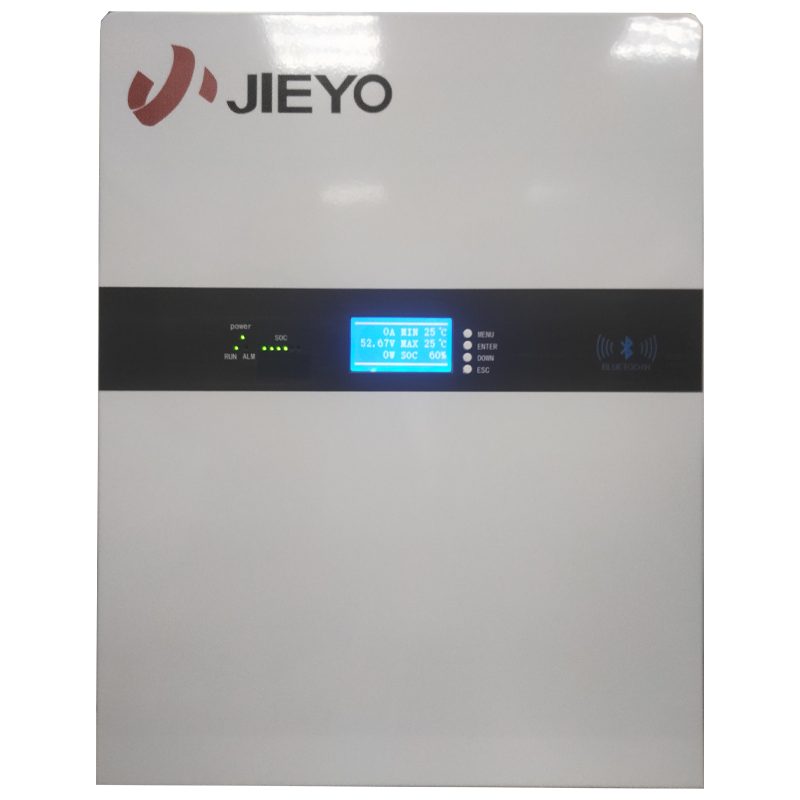 Introducing a 48V 100Ah home battery backup system which is a smarter way to provide eco-friendly, surge-free power backup to your entire home. The 48V 100Ah battery can be charged using solar panels or using a charger. This is a choice of a consumer to decide which charging option is suitabe for their needs. For example, if you face unexpected outages sometimes then a 48V 100Ah home battery backup system with a charger can come in handy. But if  you live somewhere with extreme weather or regular power outages, it's a good idea to invest in a solar battery charging solution.
How long does 48V 100Ah Home Battery Backup System?
A 48V 100Ah battery that comes with a home battery backup system has a long life-span. Additionally, this 1P16S-JY100 backup station has a rated 4800W power. Meaning you can power up a 100 W bulb for 48 hours continously!
Calculation scenario:
A 48v 100Ah battery means:
48 x 100 = 4800W total power.
If you consume 200W per hour, you need to divide 4800 by 200 to get a backup time.
4800/200 = 24 Hrs
Let's break it down: If you have four led bulbs of 20 W, three fans of 70W, and two 50 W mobile phone chargers you can get twelve and a half hour of backup. Bulb 20 x 4 = 80W Fan: 70 x 3 = 210W Chargers: 50 x 2 = 100W Total: 3 90W Dividing 4800 by 390 = 12.3 Hrs on NON-STOP use.
Specification of 1P16S-JY100 (48V 100Ah Home Battery Backup System)
Model: 51.2V100Ah (1P16S-JY100)
Rated Capacity: 100Ah
Nominal Voltage: 51.2V
Charging Voltage: 58.4V
Charging Method: CC&CV
Standard charging system: At 25℃-5℃, charge to 58.4V at a constant current of 0.2C, and then charge to a constant voltage of 0.02C, which means full charge.
Discharging Method: constant current discharge
Standard discharge requirement: Cells should be discharged at a constant current of 0.2Cto 44.8V volt sat 20℃±5℃
Standard discharge capacity: ≥100Ah
Maximum continuous discharge current: ≦100A
Discharge Cut-Off Voltage: 40.0V
Battery Weight(MAX): ≤45±1Kg
Battery Cycle Life(standard charge&discharge): ≥6000 times
Operating Temperature: 1. Discharge: -10°C to 55°C 2. Charge: 0°C to 45°C 3. Storage:10°C to 30°C
StorageTemperature: 1. Within 1 month: - 5°C ~ +45°C 2. Within 3 month: - 5°C ~ +35°C 3. Within 6 month: 0°C ~ +35°C
Extra Features of JIEYO 48V 100Ah Home Battery Backup System:
You get a value for money battery backup system
It is portable, and can be carried easily
It offers dual charging options i.e. normal charging and solar charging
The product will be delivered with extra safe packaging
48V 100Ah Home Battery Backup System is ideal for any home.
The rated output is accurate with surge protection feature
We offer special warranty for the entire backup system
Get either Li-Ion battery or Ni-MH battery backup for your home!
Order now or contact us for more details.
Also check out our portable power station.
*The above data is for reference only. CONTACT US for detailed information and customized solutions.