1000W Portable Power Station Portable Battery Generator
1000W Portable Power Station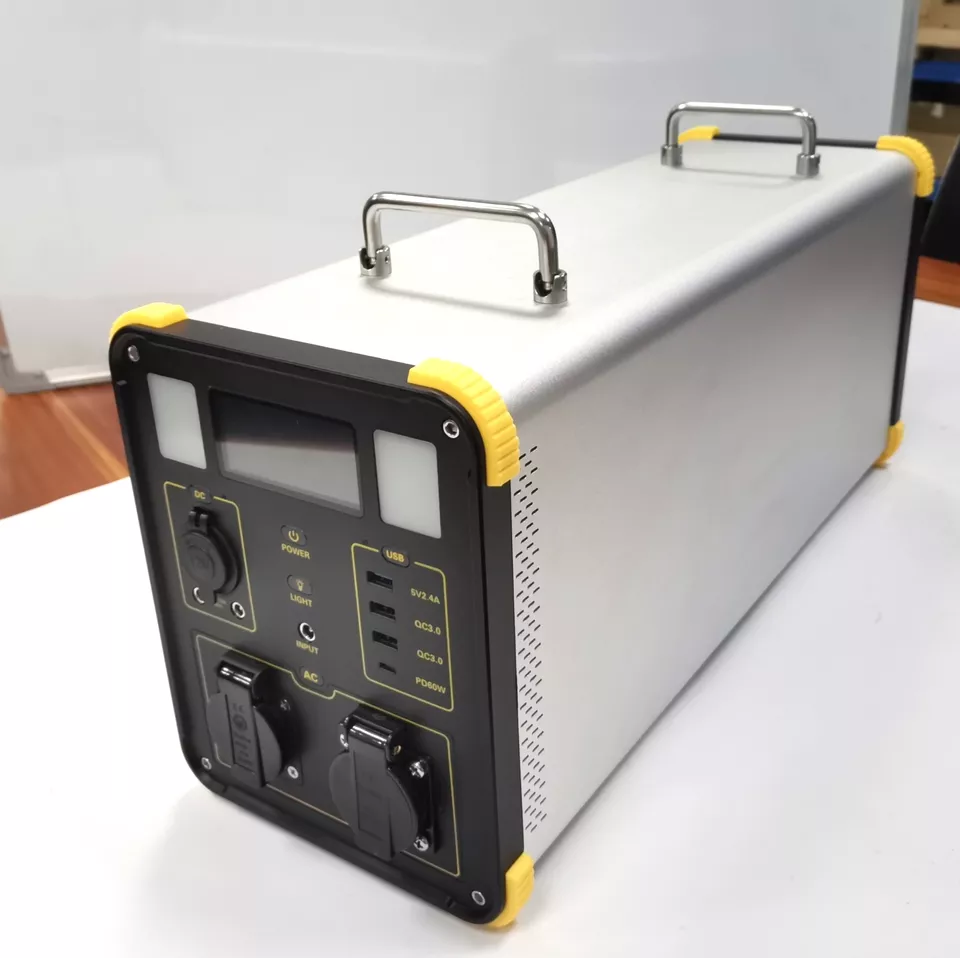 The Improved JYE-1000W2150F Portable Power Station with 1000W Guarantee Backup!
Introducing the 2150W portable power station with an ultimate solution for your on-the-go power backup needs. It is compact and lightweight, just to fit nicely in any vehicle. It is designed to be carried for camping side, beach parties, or long trips where there's no source of electricity. Surprisingly, the 1000W output is designed to offer power backup of 2 days and night based on following standard usage.
Product Short Video:
Calculation Formula: (Hours of usage x Watt consumption)
Cellphone charging: 2hr x 30W = 60W
Camping lights: 15hr x 40W = 600W
Laptop charging: 2hr x 80W = 160W
Using coffee machine: 0.30hr x 300W = 150W
The total becomes 980 Watts.
Comparing JYE-1000W2150F with other portable power stations
The portable power station is the best option if you need to juice up common personal electronics and small appliances while spending long periods away from household AC outlets or if you want backup power ready to go in case of an emergency.
In contrast with other portable backup stations, the JYE-1000W2150F is a modern power bank weighing only 26 kg. It has a NiMH 2150W battery that performs pretty much better than lead-acid batteries. While other power systems offer led lights for indication, the JYE-1000W2150F has a built-in LCD that shows charge level, output current, charging time, and load.
Better performance with an increased number of ports than before:
We found that our product was solely used for outdoor trips and camping. Therefore, consumers demanded an increased number of DC USB ports for mobile phones and camera charging. Now the new version has one USB 2.0 with 5V 2.4A, two QC USB 3.0 and one PD60W port. We also added another AC power socket which is surge free for even high voltage output.
Advantages of using JYE-1000W2150F Portable Power Station:
It is manufactured with modern inverter technology
The design is simple, rectangular and light-weight
It uses NiMH battery that has long life span and is reliable
This portable backup is best for camping or outdoor long trips due to its size and performance.
It can fully charge in 15 hours to provide 1000W rated output.
You get 12 years of free warranty!
Technical Specification:
Product Name: 1000W Portable Power Station
Model Number: JYE-1000W2150F
Battery Capacity:2150W
Rated Power:1000W
AC Output:220V/50Hz(Pure Sine Wave)
USB Output:5V2.4A*1, QC3.0*2, PD 60W
DC Output:12V10A(Max)
Charge power:150W(25.2V6A)(Power adapter)
Charge Time Around:15h
LCD Display: Power Display
Weight:26Kg
Charge Temperature:0℃~40℃
Discharge Temperature:-10℃~40℃
Storage Temperature:-20℃~45℃
Dimension:575*200*250mm(Length*Width*Height)
Accessory: Power Adapter*1, Manual*1
Warranty:12 months.
Simply saying for all of your needs, this portable power bank is suitable on all occasions!
*The above data is for reference only. CONTACT US for detailed information and customized solutions.