JIEYO one of the china portable power station brands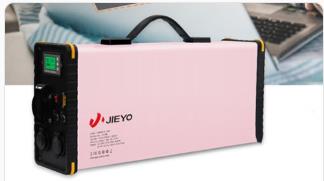 What is meant by a portable power station?
While you're on the move and away from a regular power source, a portable power station is a tool that lets you store electrical energy for later use. These gadgets are frequently portable, light, and rechargeable, making them perfect for outdoors or in emergencies.
A rechargeable battery pack is a common component of portable power stations. This battery pack may be charged using solar panels, AC power outlets, and DC power sources like automobile cigarette lighters. After they are completely charged, they may power several gadgets, including smartphones, tablets, computers, cameras, lights, and small appliances.
A portable power station can have a broad range of capacities, from small ones that can power a smartphone or tablet to big ones that can run a refrigerator or even a small RV. Inverters, numerous AC outlets, and USB ports are among the other features that some portable power stations include, which further increases their adaptability.
Whether camping in the woods or just wanting a backup power source during a power outage, portable power stations are an easy and dependable method to keep you charged and connected while on the road.
Why should you buy a portable power station from Jieyo?
The service is consistently kind and expert. While seeking a reasonable deal, everyone chooses this manufacturer above the competition. If you're looking for recently manufactured and dependable items, you're highly encouraged to contact the JIYEO goods center. The store is a great resource for the most recent information about energy storage system businesses and new goods. Before delivering anything to you, our agents verify that everything that enters an authentication Centre conforms to our internal quality requirements.
Greater product quality and identity confirmation:
Authenticated goods are of a higher caliber, which is advantageous to buyers and sellers who may profit from knowing that the product is genuine and has been approved. Authentication is done each time a product is purchased or sold online. Both buyers and sellers profit from increased buyer trust. Thanks to the verification process, you won't need to be concerned about chargebacks or refunds. After being given to Jieyo, they take care of everything. It's excellent that you won't have to perform much administrative work.
A reasonable price is being offered:
Products and services are now easier to obtain on the market due to the expansion of e-commerce platforms. Portable power station businesses that employ strict internal authentication to guarantee the security of every transaction are part of the trusted platform JIYEO—unbeatable price and availability. Buying products from Jieyo is easy, reliable, and secure.
Products from Jieyo are light and ideal:
The portable power stations from Jieyo are made to be light and portable, making them ideal for outdoor activities, camping, and backup power in an emergency. A few of their models also have extra features, including wireless charging, MPPT solar charging, and LED lighting. It's crucial to assess your power requirements, contrast the features and specs of various models, and read customer reviews when buying a portable power station from Jieyo.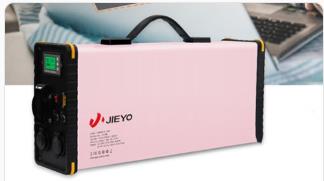 Key factors to think about while selecting a portable power station include:
Whether outdoors or in an emergency scenario without access to an electrical outlet, portable power stations are practical equipment that can supply backup power for various electronic devices and appliances. While on the road, they may charge electrical gadgets like laptops and cell phones. The amount of electricity a portable power station can store and supply is determined by its capacity, expressed in watt-hours. Taking into account your power requirements, consider the power plant's capacity.
Examine the quantity and types of output ports accessible to power or charge your gadgets.
Output: While charging or powering your gadgets, consider the quantity and types of output ports accessible.
Assess the size, weight, and simplicity of moving the power station when determining its portability.
Battery type: Consider the kind of battery the power plant uses, such as lithium-ion or lead-acid batteries. Compared to lead-acid batteries, lithium-ion batteries are often lighter and more effective.
The brand's reputation: Before purchasing, consider the brand's reputation and customer feedback.
Based on the considerations above, it is ultimately up to you to choose which brand or type of portable power station is appropriate for your requirements.
What characteristics define the finest portable power source?
A portable Power Station is one of the most well-known rechargeable batteries utilizing Nickel Metal Hydride (NiMH) technology. Its benefits include no maintenance requirements, a long lifespan, and a high energy density. They are used in many consumer electronics, including cameras, computers, gaming consoles, and business and industrial applications for power backup. A battery backup system with integrated surge protection is called the Portable Power Station. It contains four outlets and three adapters to power 12-volt gadgets like CPAP machines, cell phones, and iPads. This portable power station is the perfect travelling companion, whether you're going camping or just sitting in traffic. Any current electronic gadgets, including tablets, may be charged using the unit's six charging ports. Two USB ports, regular power outlets, and cigarette lighter connections are included. Before purchasing a subpar station, consider the following characteristics of the finest portable power station.
The ideal portable power station should be portable, portable, and lightweight. Thus, it becomes simpler to move about and control.
A convenient power backup station should have minimal noise when camping in the tranquilly of nature because constant noise can be upsetting. The sound output of a great portable power source should be 20 to 30 db.
Before leaving on a journey, certain stations require much time to charge completely. As a result, it may cause delays in your plans or cause you to pay only half as much. The greatest portable power source needs to have a quick charging capability.
It should weigh no more than 26 kg to fit comfortably within your car or leisure vehicle. This makes carrying it to the campground easier for you.
The capacity to withstand unintentional stress is another feature you should consider when selecting the finest backup station. Because there is a danger that a portable power station will fall to the ground when you carry one; thus, an accident-resistant portable charging station will last longer for you.
Conclusion:
You can contact JIEYO, a licensed power station seller if you're considering buying or ordering the best portable power station. You will receive a free replacement warranty on each item you buy online to add one more thing. We are dedicated to offering our clients first-rate services and enjoy effective working relationships with local and foreign clients.