24V 50Ah LiFePO4 Battery Pack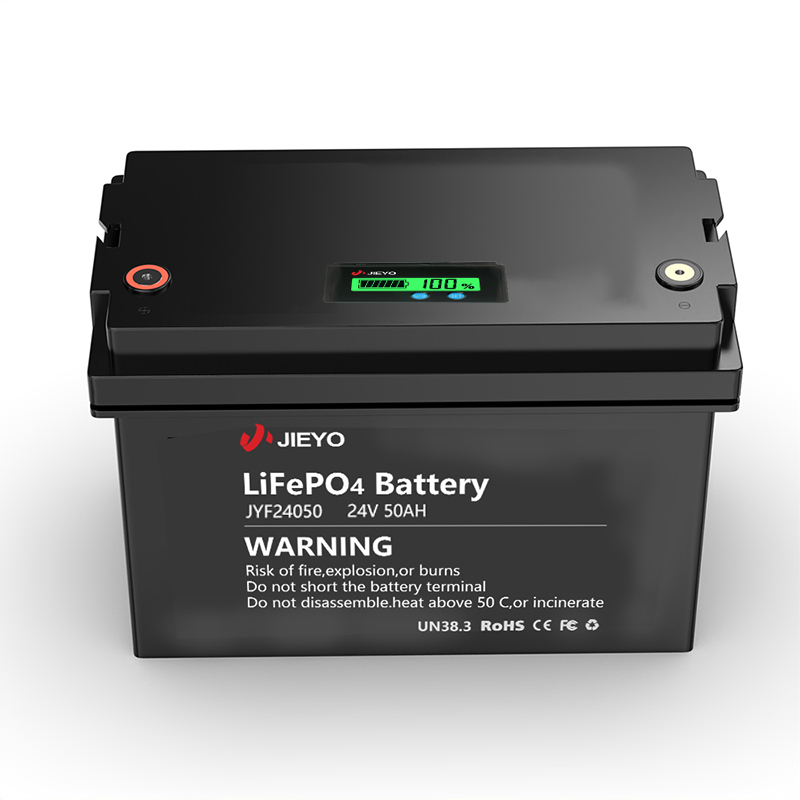 This 24V lifepo4 battery can achieve more than 6000+ cycles, which lasts up to 4 times longer than a lead-acid battery battery. The inside BMS can automatically stop recharging under the temperature of 0 ℃ and also can prevent the battery from the most common issue, such as temperature volatility, overcharge, over-discharge, over-current, overloading, overheating. This 24V lifepo4 battery can widely run your golf cart, RV, motorhome, boat, marine, camper, Caravan, electric forklift, trolling motor, electric motorcycle and so on.
Battery Performance
Nominal Voltage:25.6V
Nominal Capacity:50Ah
Nominal Energy:1280Wh
Internal Resistance:≤20mΩ @ 50% SOC
Self Discharge:<3% / Month
Charge Performance
Recommended Charge Current:20A
Maximum Charge Current:≤50A
Recommended Charge Voltage:28.8V
BMS Charge Cut-Off Voltage:<29.2V(3.65V/Cell)
Reconnect Voltage:>28.4V(3.55V/Cell)
Balancing Voltage:<28.2V(3.525V/Cell)
Discharge Performance
Maximum Continuous Discharge Current:25A
Peak Discharge Current:≤50A(≤5S)
BMS Discharge Cut-Off Current:75A ±10A(50-150ms)
Recommended Low Voltage Disconnect:18.4V(2.3V/Cell)
BMS Discharge Cut-Off Voltage:>18.4V (2s) (2.3V/Cell)
Reconnect Voltage:>21.6V (2.7V/Cell)
Short Circuit Protection:450 ~ 800 μs
Temperature Performance
Discharge Temperature:-40~ 131 ºF (--40 ~ 55°C )
Charge Temperature:-40 ~ 131ºF (-40 ~ 55°C )
Storage Temperature:23 ~ 95 ºF (-5 ~ 35 ºC)
BMS High Temperature Cut-Off:149 ºF (65 ºC)
Reconnect Temperature:131 ºF (55 ºC)
*The above data is for reference only. CONTACT US for detailed information and customized solutions.